Licor Beirão (Portugal's Liqueur)
Prepared with natural products with aroma made through a double distillation process of plants and aromatic seeds, Liqueur Beirão is the largest selling liqueur in Portugal. Great as a digestive plain or with ice, it can be found at every Portuguese restaurant or bar in Portugal and abroad. Also makes great cocktails.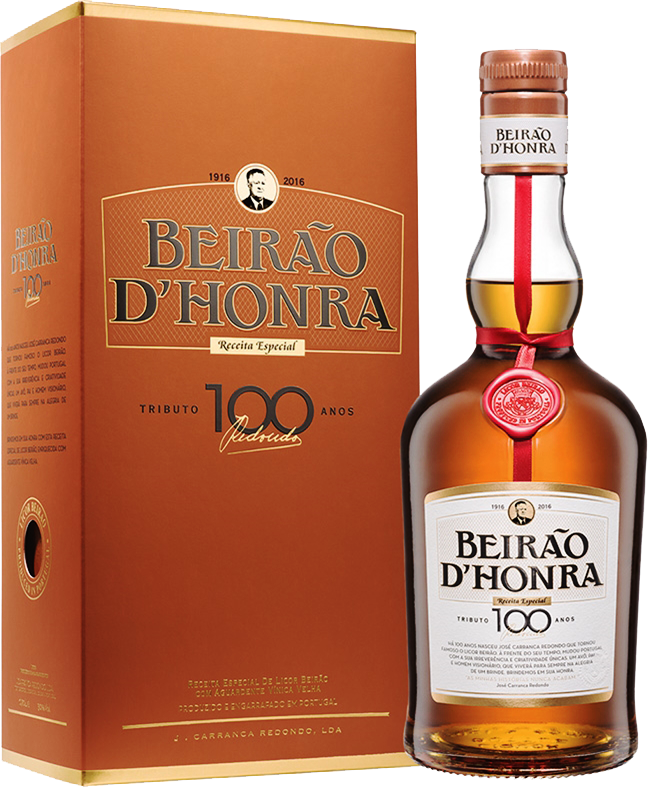 Beirão d'Honra
A special recipe of the traditional Licor Beirão, Beira d'Honra (Beirão of Honor) was inspired as a tribute to the 100th anniversay of its founder, José Carranca Redondo. Produced with a special aged brandy and a blend of specially selected plants and spices, it is elegant, smooth, and suave. Enjoy after or before a meal, with espresso, or by itself with a nice cigar.

Aldeia Velha Aguardente Bagaceira
Produced in traditional copper stills from the destillation of the best Portuguese white grapes. this genuine pale colored grape spirit is carefuly aged in oak casks. Aldeia Velha has persistent aromas and a fruity and smooth taste. Try it in a snifter, straight up, or from the fridge.

In Portuguese countryside aguardente traditionally distilled from the residue left over after wine is made, the Aguardente Bagaceira. The raw materials are in a cauldron over a fire distilled. A long tube runs through a large tub of hot water and the end product drips from the tube into a can. Delicious digestive also delicious with a good cup of coffee.

Amarguinha Almond Liqueur (Amendoa Amarga)
Traditional Algarve drink, obtained from an old recipe for bitter almond liqueur. Can be enjoyed as appetizer, digestive or cocktail. Amarguinha's production begins with the rigorous selection of its components and finishes in a period of maturation carried out on oak and Amazonian hulls, which give it a stabilization and richness of incomparable aromas.