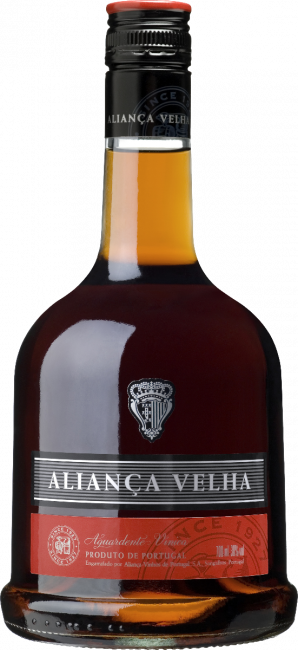 Aliança Velha V.S. Old Brandy
Aged 3 years in portuguese oak barrels. Gold color with nuances of cofee and toasted nuts. On the palate, flavours are complex with a velvety ending.

Ideal to drink as a digestive after a meal or with espresso.


Antiqua V.S.O.P. Old Brandy
Aged 5 years in Portuguese oak barrels. The nose boasts prominent dried fruits intermingled with subtle yellow fruit notes and coffee. On the palate this aguardente displays a remarkable balance between smoothness and structure, enhanced by vanilla and light woody notes acquired over the 5 years of ageing.

Antiqua is a great drink to finish a plentiful meal or with espresso.

Antiquissima V.S.O.P. Reserva Old Brandy
Aged 8 years in French, American and Portuguese oak barrels. Antiquissima Reserva is a true cascade of flavors—its complex, smooth texture has notes of dried violet, pastries, tobacco, leather and walnut, culminating in a pure, velvety, and long finish.

Antiquissima Reserva is at its best as an after dinner beverage. It can be wonderful with cheeses or desserts, or is perfect by itself or with espresso.